From November 24 to 25, 2011, Yang Herong, Mayor of Laibin City and Liu Dexiang, Deputy Mayor of Laibin City in Guangxi Province, led the investment team composed of leaders of the relevant departments of the city to discuss with senior executives of Shandong Linglong Group. The two sides agreed to contribute a total investment of 3 billion yuan to 2.5 million yuan annually. Set engineering radial and engineering truck tire projects settled in Guangxi Laibin.
The two sides reached a consensus on cooperation. Delicate Group plans to invest 3 billion yuan to build an annual production of 250 sets of engineering radial and engineering load-carrying tires in Laibin Phoenix Industrial Park. The project will be constructed in two phases. The construction land for the project will be 1500 mu. It will support 150 mu of land for living, scientific research and display, and is expected to be realized. With an annual output value of 4 billion yuan, it is clear that an investment cooperation agreement will be signed in mid-December this year.
At the project negotiation meeting, Yang Herong introduced the relevant situations in Guangxi and Laibin. He pointed out that Guangxi has ushered in an important period of development opportunities in recent years. With the completion of the China-ASEAN Free Trade Area, Guangxi has become a bridgehead and a major channel for Chinese provinces to enter ASEAN countries. The guests are located in central Guangxi, and their location advantages, transportation advantages, resource advantages, market advantages, and advantages in employment are obvious. They enjoy the support policies in the western region and preferential policies for industrial development. The Linglong Tire Company's raw materials and markets are both in the south, with high transportation costs and low profit levels. The tire projects are laid out to guests, in line with the laws of the market and industrial development requirements, in line with the strategic choice of mutual benefit and win-win, and can serve the Southwest, For Southeast Asia, it can also serve the Guangxi market, especially Liuzhou will build 1 million automobile city, the tire industry market has broad prospects, the guests will strongly support the project construction.
It is understood that Linglong Group is a group-based company mainly engaged in the tire industry. Its industries include tire manufacturing, electromechanical processing, chemical raw materials, construction materials, business tourism, public utilities, financial services, and heat and power industries. With a total of more than 10 billion yuan in total assets, it achieved sales revenue of 15 billion yuan in 2010, and overseas sales revenue of 800 million US dollars. It is a top 500 Chinese enterprise and an "excellent Chinese private enterprise." The company's sales network covers all parts of the country, and its products are exported to more than 160 countries and regions such as Europe, America, Middle East, Southeast Asia, Africa, and Central and South America. It has become China's largest export-oriented tire company with the highest brand value.
YRT turntable bearing is a rotary mechanism with outer ring rotation and inner ring support. It is mainly divided into three series: YRT type, YRTS type and YRTM type. The three series bearings have the same installation dimension, the internal structure is different, and the performance is similar. YRT series bearings consist of three rows of rollers, two rows of axial rollers ensure stable axial bearing capacity. A row of radial rollers ensure that the bearing can bear radial force and overturning moment, which is suitable for the slewing mechanism with axial load. YRT turntable bearings are mainly used for CNC machine manufacturing industry. As its core components, domestic YRT series bearings demand is also more dependent on imports. The accuracy parameters of domestic YRT turntable bearings are also based on international manufacturers. Since twenty-first Century, especially with the national high-end CNC machine tools and basic manufacturing equipment special start, greatly promoted the development of industry of machinery and equipment, machine tool development process of high speed and precision, complex, intelligent "has been further accelerated.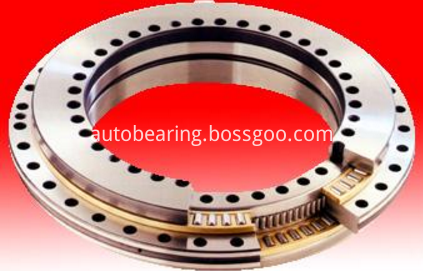 1.YRT type
The YRT bearing consists of a thrust / centripetal seat, a thrust / centripetal shaft ring, a thrust washer, two rolling pin cage assemblies and a group of centripetal cylindrical rollers. A screw hole for the installation of a seat ring and a shaft ring. This type of bearing has high axial and radial bearing capacity.

2.YRTS type (radial nylon maintainer)
The radial roller uses nylon retaining device to make the YRTS bearing have the characteristics of high limit speed and very low friction torque. Therefore, the bearing is suitable for engine with torque.
3.YRTM type (including steel grid measuring system)
YRTM is a two way thrust cylindrical roller YRT combined bearing equipped with steel grating ruler. It realizes real-time monitoring and adjusting the rotation accuracy of bidirectional thrust cylindrical roller combined bearing, so as to ensure the high accuracy operation of the machine.
YRT bearing bearing is suitable for axial and radial bearing mechanism. High tilt stiffness and high precision, suitable for rotary table, chuck and iron cutter head, and bearing configuration in measurement and experiment. This type of bearing is also required to match the equipment parts. When installing the required control installation screw tightening torque. It is mainly used in high precision field of high precision CNC turntable, indexing head, military radar, aviation, spaceflight and measurement and test.
Main model
YRT series (German INA/FAG company corresponding model) main model:
YRT50, YRT80, YRT100, YRT120, YRT150, YRT180, YRT200, YRT260, YRT325, YRT395, YRT460, YRT580, YRT260
YRTS series (German INA/FAG company corresponding model) main model:
YRTS200, YRTS260, YRTS325, YRTS395, YRTS460
YRTM series (German INA/FAG company corresponding model) main model:
YRTM150, YRTM180, YRTM200, YRTM260, YRTM325, YRTM395, YRTM460
Yrt Bearing,Rotary Table Roller Bearing,Yrt Types Slewing Bearings,Rotary Table Slewing Bearing
LUOYANG AUTO BEARING CO.,LTD , https://www.ballbearing.nl